Tips For Running In Cold Weather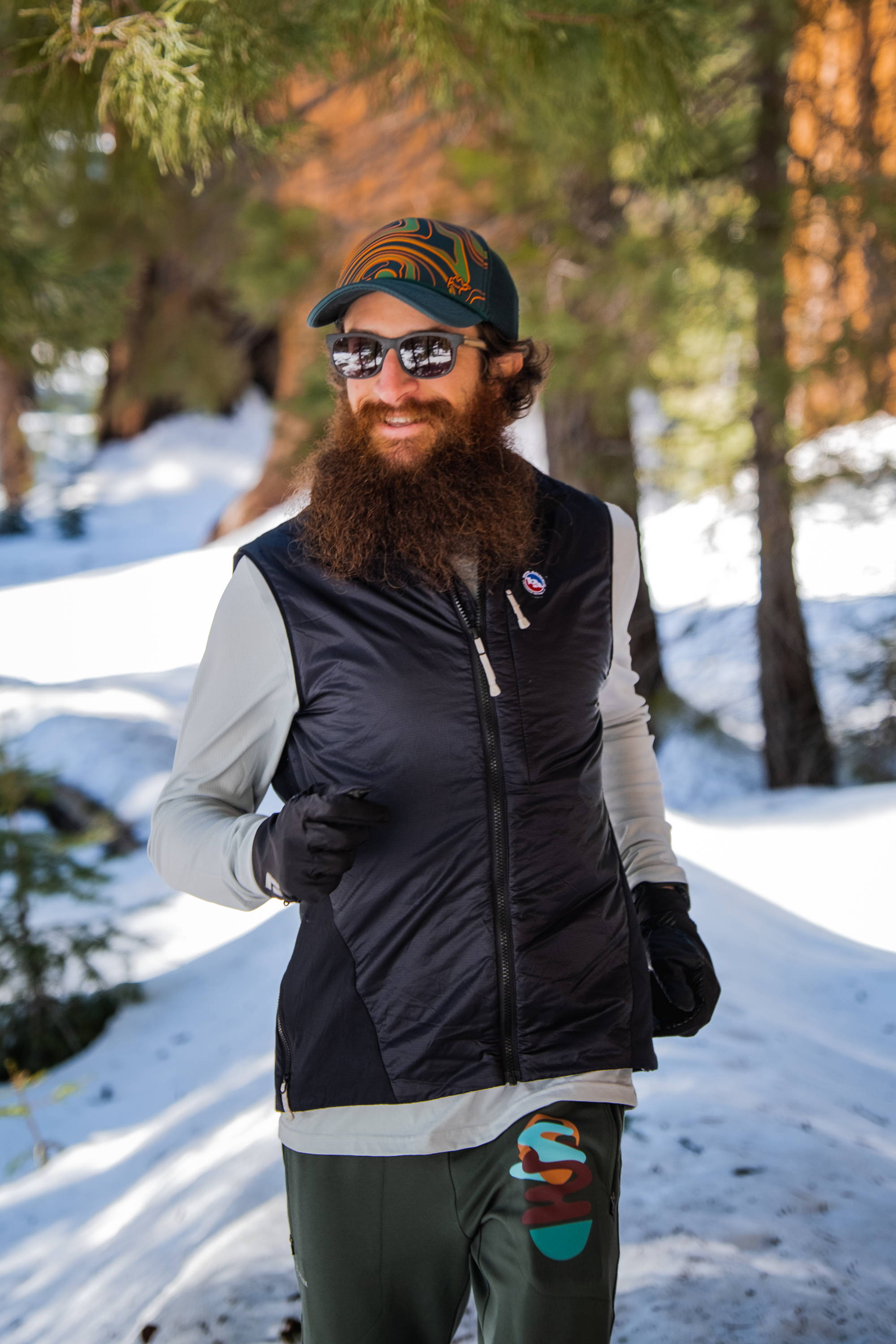 ---
Our headquarters is based in Central California, close to the Sequoia National Park, and we love hitting up our local trails–from the foothills by the lake to the snow-capped peaks towering 14,500 ft. During the winter months, and even into early Spring, the mountain weather is brisk and snow covers most of the terrain, yet we still yearn to get out there and run the trails in our backyard. It's like pursuing bliss in the midst of a cold, stormy, and wet challenge. Running in colder weather can be a daunting task, even intimidating to the first-timer, but with a little knowledge and a sprinkle of confidence, our hope is that you feel prepared and eager to get out there in the colder elements. It's an absolutely unbelievable sight and a highly rewarding feeling to run in the winter-wonderland of a snowy mountainside. So we're here to encourage you to not let the cold sway you away from sticking to your running routine. Running can be incrediably enjoyable during this season, and we hope this guide will help prepare you to get out there comfortably, conquering your way through the frosty trails.  
3 Basic Tips for Getting Started
Start Easy - If you're new to running in the cold, you don't want to overload your body by starting out on a tough trail. Find a nice route that's familiar to you so you can adjust to the elements as smoothly as possible. If there is snow on the ground it can make running more challenging both physically and mentally, even on a familiar trail. Give yourself a little bit of time to get used to the new environment, adjusting the length of your run as you progress and feel more comfortable in the elements.
Hydrate - Like your worst enemy disguised as your best friend, dehydration can creep in during a cold run and ruin your day, even if you don't *feel* thirsty. The key is to stay hydrated, just like you do every other day. Even though it's not hot outside, and your appetite for water may be at its lowest, it's extremely important to stay on top of your hydration. A rule of thumb is to hydrate before, during, and after a run to make sure you are taking in proper amounts of liquid.
Start Cold - This may sound like odd advice, but hear us out. If you are all bundled up with a big, puffy jacket and multiple layers, likely a mile down the road you will feel the need to shed some of your clothes and then you'll have to tote them around for the remainder of the run. It's better to limit your warm clothing options from the start since your body will heat itself up naturally as you begin to move and you don't want to sweat more than you need to.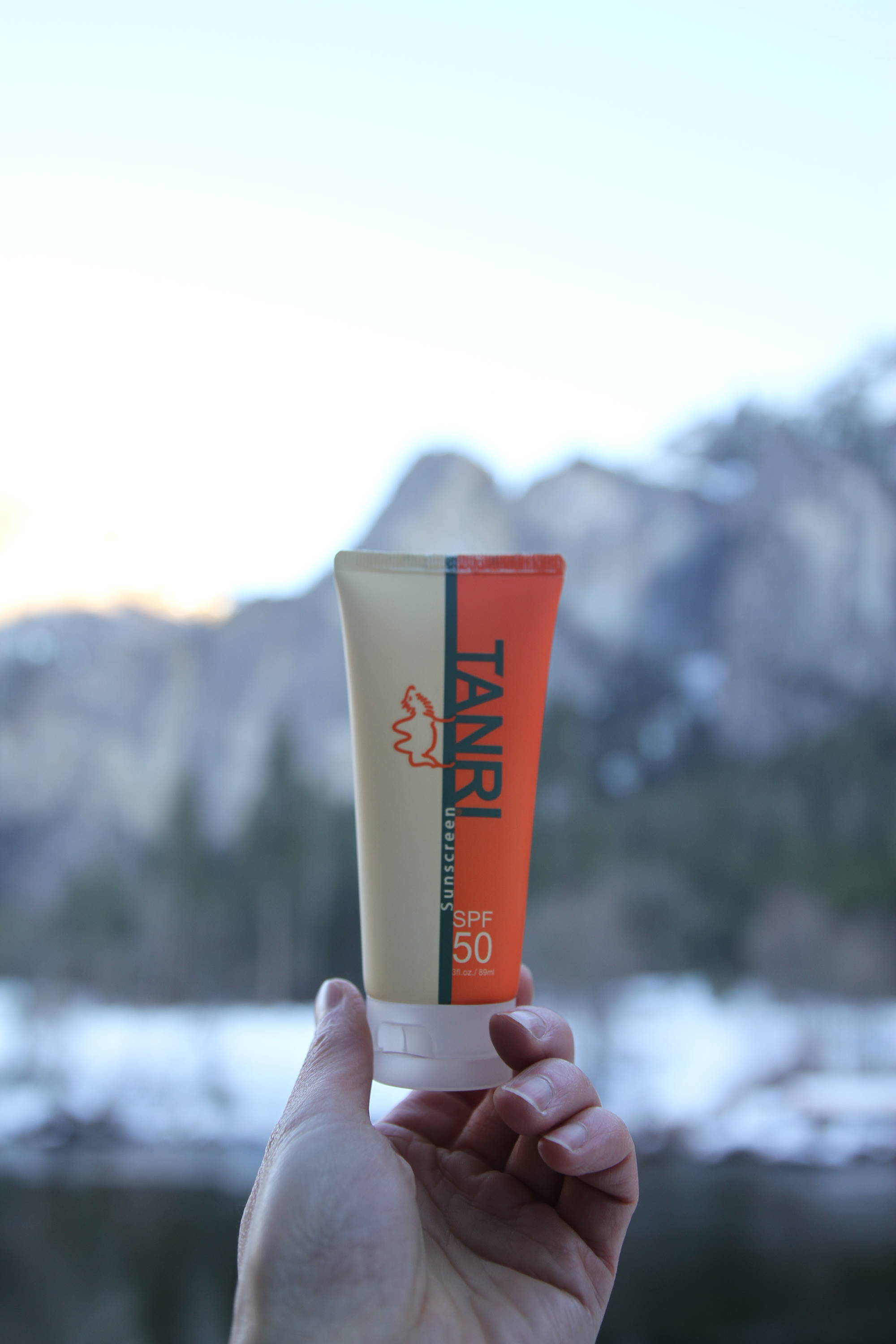 Cold Weather Running Gear
Sunscreen - I'm sure you're all wondering if you really need sunscreen when the sun isn't at its peak summer glory, right? The simple fact is that you need sunscreen all year 'round. Sunscreen is just as important in Winter and early Spring, especially when you're around snow. Snow will reflect the sun and increase the intensity of its rays, leaving you more exposed to its harmful effects on our skin. We recommend any of our sunscreens for your cold weather adventures to keep your skin healthy and protected.
Running Jacket or Vest - There are several different brands and types out there so find yourself a durable one that fits nicely to your body and provides the right amount of warmth. A good jacket or vest will be insulated enough to help keep your core warm, but also be vented to help wick moisture away from your body. This will help ensure you stay comfortable amidst the biting climate.
Gloves - This is double-handedly (wink, wink) the most important piece of gear to carry when the conditions are frigid out. A small, yet powerful article of clothing that packs a punch to keep your extremities warm and dry. When temps drop, blood flow decreases in your hands and feet naturally to help keep the core warm. Investing in a pair of quality gloves is another way to increase your comfortability when the air is crisp and bone-chilling.
Socks - As mentioned already, colder temps cause your extremities to decrease blood flow in effort to keep the core warm. We covered how to keep the hands toasty, so naturally, let's talk about the feet. A reliable pair of mid-weight technical socks is a great choice. We prefer a nice merino wool sock here at Tanri. They are breathable and wick sweat and moisture so your feet stay warm and blister-free.
Footwear - If you're a runner, you already know that good footwear is one of the most important elements to having a good run. A good shoe, that's appropriate for the terrain, is necessary for preventing injury and also providing a solid base for your run. Running trails and routes in colder seasons is no exception. Be prepared for encountering various terrain, such as snow, ice, and mud by ensuring you have a quality shoe with appropriate tread and grip. It is also a good idea to carry microspikes for the snow and ice. They slip right onto the sole of your shoes and can save you from a painful slip and fall.
Pants or Tights - Now we all love our running short-shorts–there's nothing quite like feeling the breeze on those upper thighs to rejuvenate the mind, body, and soul–but when it's cold out, it's best to protect the legs from the icy climate. Opt for a pair that easily moves with you and your movements. The last thing you want is to feel rigid and restricted while already battling stiff muscles from the cold.
Hat - When the temps really drop, it's nice to put on a beanie or headband to keep your ears covered–remember we have to protect the extremities. That way the chilling breeze won't feel too chilly, and you can get back to focusing on that joy of why you're out running in the first place.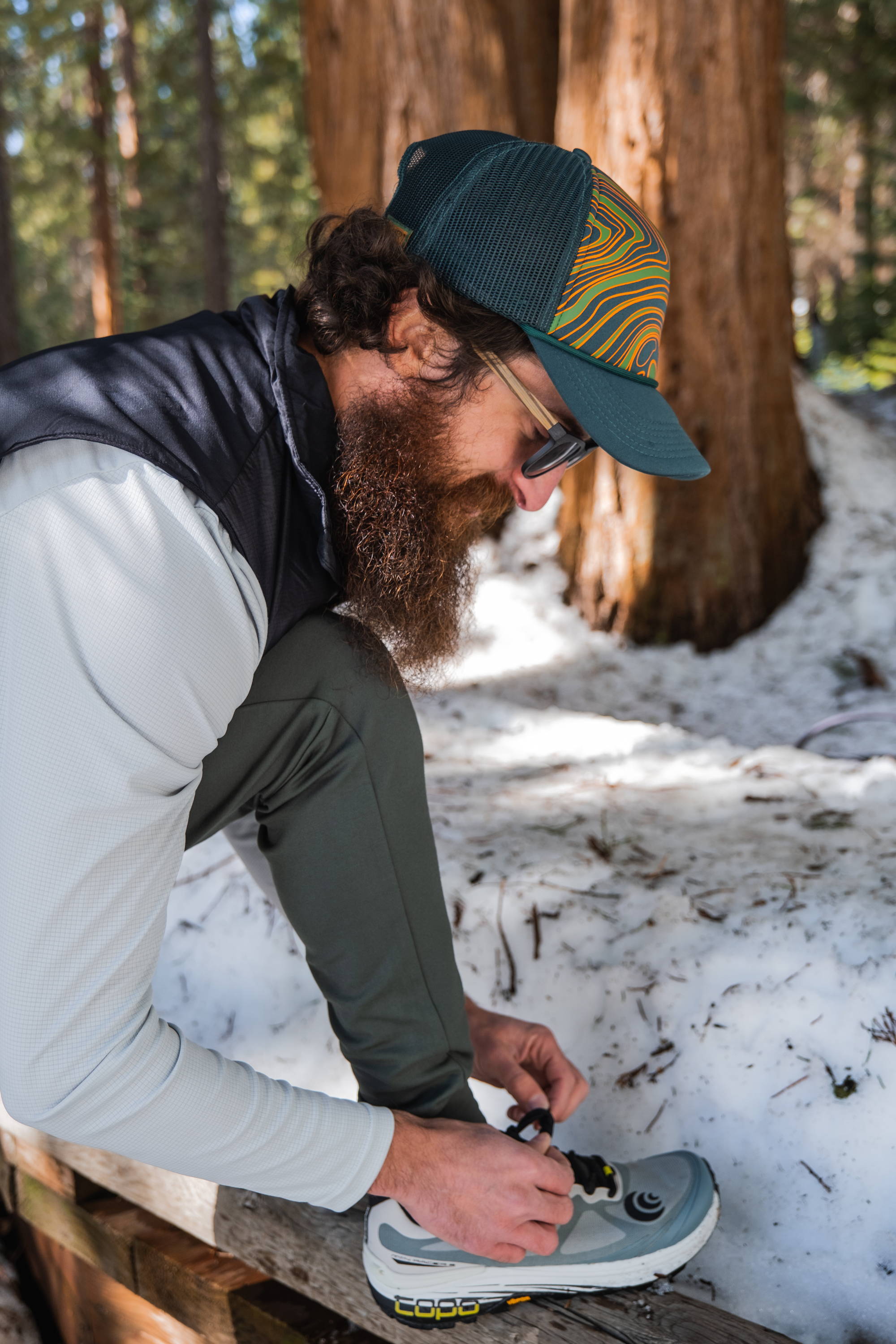 Pack a Bonus Bundle
Whenever we go running trails in lower temps, we like to pack a portable stove, water, and coffee or tea to have as a delightful, warm treat waiting for us back at the car– a nice care package after a hard run in the cold. It's a way to keep the body warm and also allows us to take a pause to soak in the nature around us one last time before heading back down the mountain. This is one of life's little treasures that we feel creates the perfect conclusion to an incredibly thrilling cold-weather run.
Our Favorite Local Winter/Spring Trails
Skyline - A challenging route with lots of climbing at lower elevations. You can plan to go out for a few miles or up to 22, it just keeps climbing. This is an amazing place to train and build your climbing legs. They call it Skyline for a reason, it'll send you straight up to the wild blue yonder.  
Shepard's Saddle - Following a dirt fireroad, this trail offers a great place to build momentum and gain some speed on a gradual climb. The uphill sections on this trail are easy on the legs and allow you to keep moving forward quickly so you can go for those longer miles. As one of the less-popular trials in the Sequoias, this is a great trail to execute a long run and enjoy some silence.
Middle Fork Trail - Offering splendid views of the Great Western Divide, this trail follows the Kaweah River upward for 22 miles (out and back) to Redwood Meadow. If you're up for an energetic technical run, this is your spot. It has a lot to offer in terms of views, elevation gain, and diverse terrain. It's a well-rounded, quality trail that won't disappoint. We like to frequent this spot in the early Spring for a long Sunday run.
As we conclude, we hope you feel prepared to grab a buddy and go for an outing this season. Venture out of your comfort zone, embrace the frigid elements, and see the surrounding landscapes, like those familiar summer trails, from a new point of view. Stay safe, hydrated, and don't forget your sunscreen! We would love to hear about your stories, tag us in a post to tell us about your cold-weather adventures.
---
1 comment
---
---