ra·men·run
an energetic jaunt or route taken by foot to consume tasty noodles, served in a rich-flavored broth with your choice of protein and vegetables (Japanese noodle soup).

I have desired to run from Morro Rock—a staple of Morro Bay, California—to the neighboring town of Los Osos for quite some time. The notable, skyscraping sight of Morro Rock holds a special significance in my heart. I spent a lot of time in Morro Bay as a child as it became my family's summer vacation spot. I was married there a few years ago and still frequent this area year round. Morro Rock is a 581-foot-tall beauty that you can't help but admire. Since starting my running journey, I have been enticed to plan a run from this amazing monument. But where would I run to? Over the past year I had also become acquainted with the little town of Los Osos. During one of my trips there I was having mad cravings for some ramen and that's when I stumbled upon my soon-to-be favorite ramen spot, Kuma. I knew Kuma would be the perfect finish line so I decided to run from the rock to Kuma, dubbing it the Ramenrun. After some simple route planning I decided to carry out the 6.5 mile journey to make it for happy hour at Kuma. Half-off ramen and $1 Sake sounded like a great post-run pairing.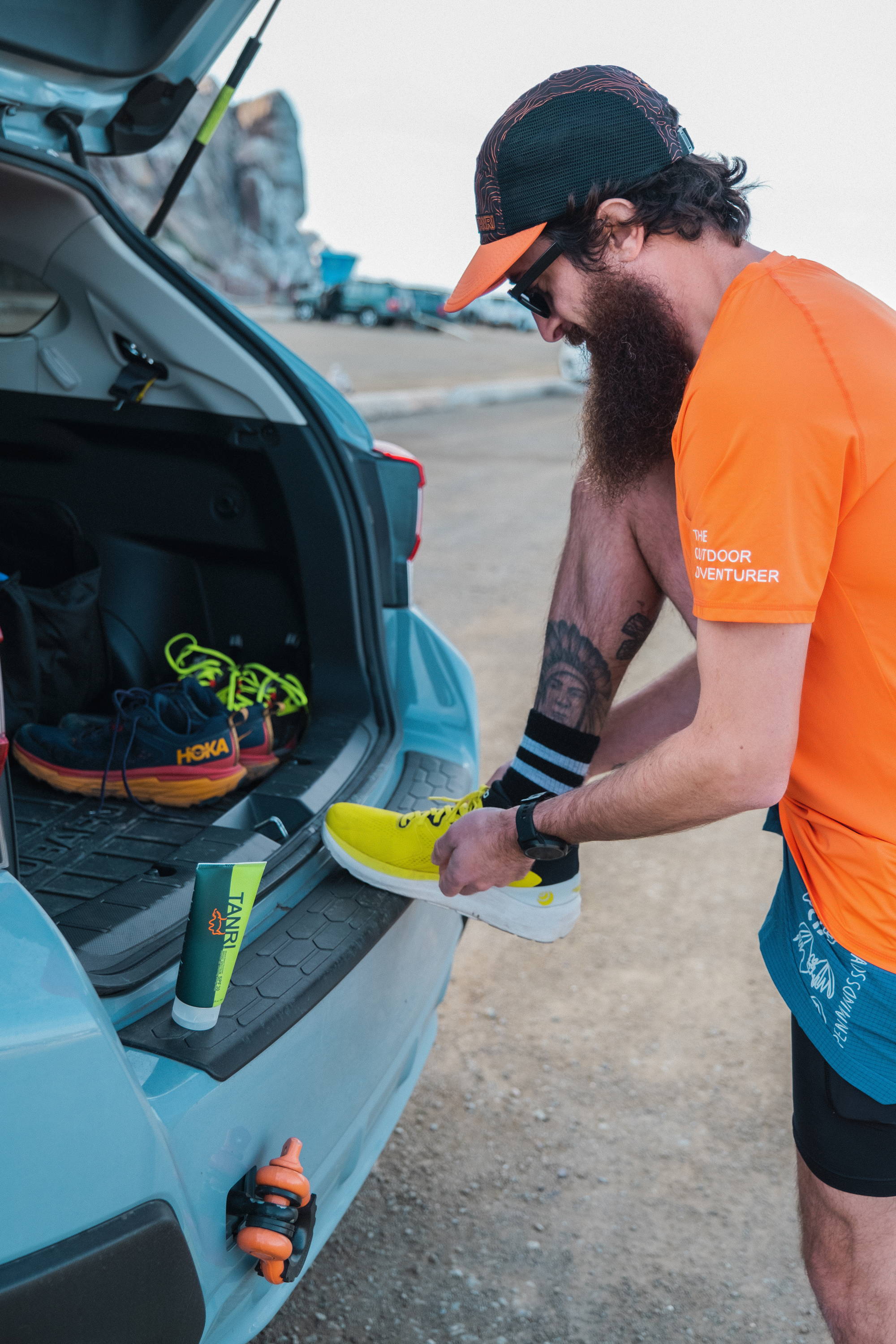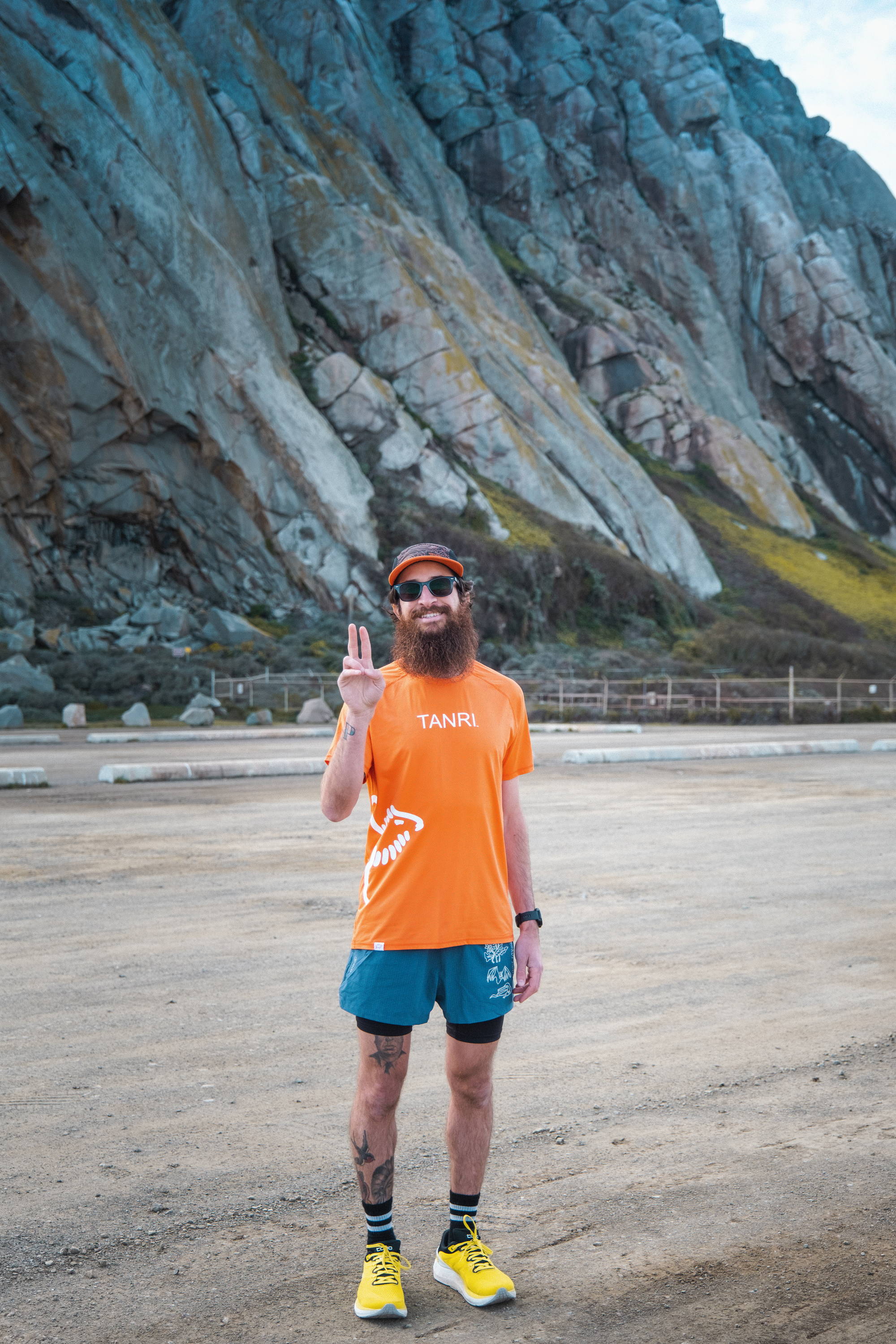 At the base of Morro Rock I had my wife Ashley drop me off. She waited around, snapped some pictures, and talked to me while I laced up my shoes, hammered down some last minute nutrition, and applied mineral sunscreen to provide protection from those harsh coastal sun rays. Right before I started my run a thought crossed my mind… "be mindful as I run—entirely present in the moment, fully aware of the fascinating landscapes I'll be running through." Far too often I get caught up in my pace, heart rate zones, cadence, and everything else running-related. It's nice to have those moments where you lose yourself in the movement and enjoy your surroundings, letting the running take care of itself.
The weather was a perfect fifty-five degrees and sunny with a slight breeze coming from the ocean. I warmed up my legs in the parking lot, activated my gps watch, and took off—taking one final look at the gigantic rock that stood firmly behind me. With ramen on my mind the excitement of happy hour burst through my body like ten thousand volts of lightning. With 6.5 miles ahead of me along delightful coastal terrain I wanted to be fully engulfed in the surrounding views. I took in a few deep breaths to clear my consciousness and focus on the here and now. From the rock, I made my way out to the boardwalk around Morro Bay Harbor. The boardwalk was poppin' with other people enjoying their day in the sunshine by walking, running, riding a bike, or simply watching the sea otters by the docks. I couldn't help but smile as it brought joy to my soul to see so many people being active outdoors. As I worked my way inland, about half a mile from the rock, I passed the iconic Morro Bay smokestacks—three 450-foot-tall concrete towers—that stand as remnants from a former power plant built half a century ago. Though the power plant hasn't operated since 2014, Morro Bay locals continue to refer to their town as "Three Stacks and a Rock," a tribute to the two signifying markers of the small fishing town. A statuesque view towering above the ground I was running on.
As I ran down the Embarcadero, I was greeted by more crowds of people taking a midday stroll to check out the local shops and lining up at Giovanni's Fish market to devour their famous clam chowder bread bowls. Energized from the swift currents of the masses I picked up my pace—looking forward to what lay ahead of me. Keeping my eyes on the horizon, my feet hit the asphalt like an acoustic rhythm that I know so well. Smooth and fluid, like a wave creeping its way to the shore. The coastal air filled my lungs. Running next to the ocean kept me light on my feet, gliding with every step like a seal swimming in the harbor. For an instant I lost track of time, simply in tune with my surroundings and how I was feeling. My breathing slowed as I steadily passed The Skateboard Museum, by a few parks, up a flight of stairs, and through the golf course.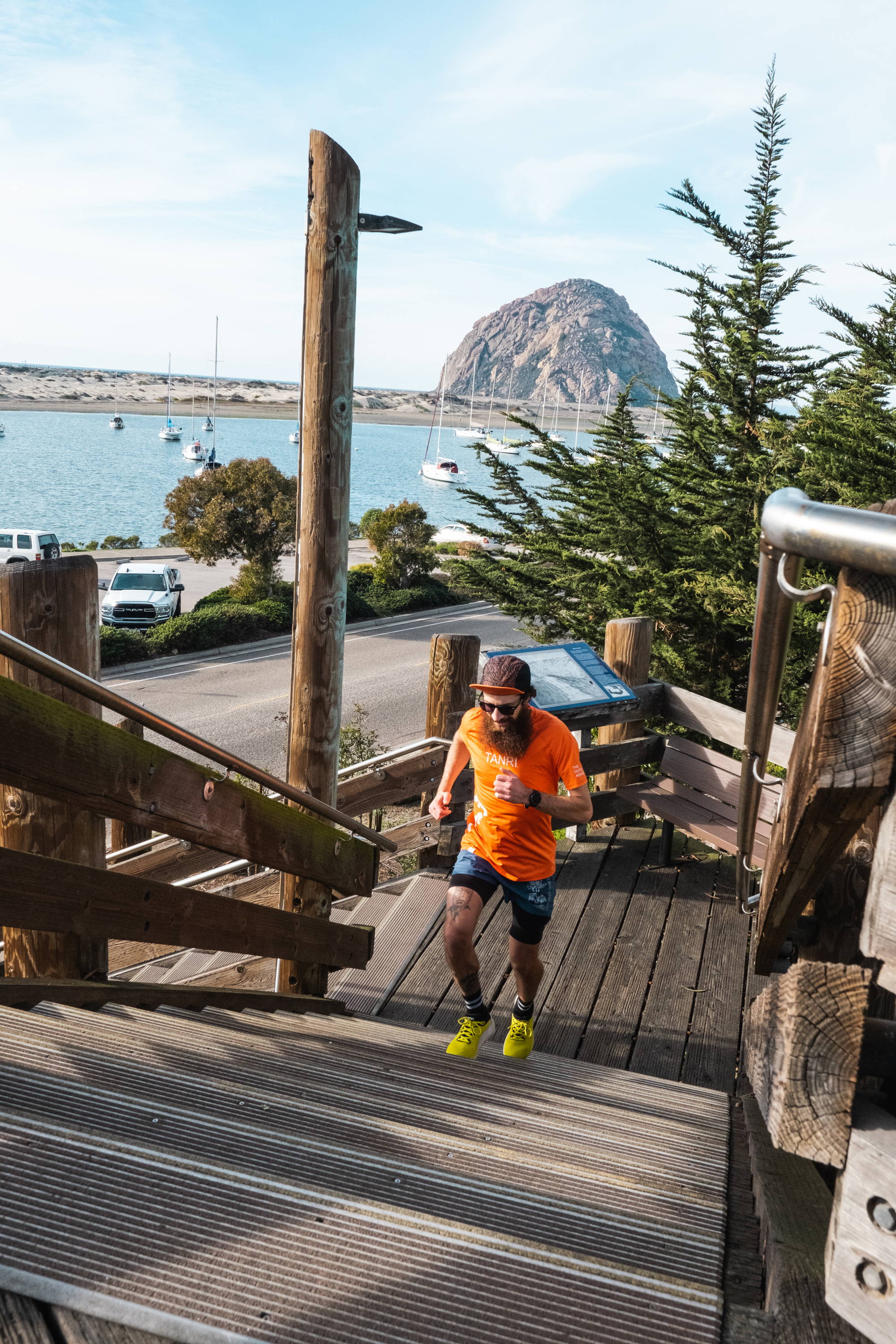 ---
A few miles in I found myself immersed in the middle of the alluring Estuary along South Bay Boulevard. It was low tide and hundreds of Canadian Geese were foraging in the marsh grasses along the many channels that twist and turn through the magnificent waterland. A migrational home to many other species of birds, the estuary has a diverse habitat that draws in wildfowl from all over the world. Looking in the distance I watched a falcon soar close to the water's edge scouting for prey. Seeing this fast and deadly bird of prey was a great reminder to be swift and nimble on my feet, in step with my primal instincts taking flight towards the happy hour that was a mere 2.5 miles away. Crossing the bridge into town I turned around to catch one last glimpse of the sun shimmering over the glistening reddish-green marshland.
The road ahead was all sidewalks, neighborhoods, and tail lights––I was nearing the end and the stoke started to get real with that subliminal runner's high! With pumped legs and a hungry stomach, I was really starting to crave a big bowl of tonkatsu ramen. Cars whizzing by me on South Bay snapped me back to reality from my food-craving mental state. I shifted my focus back on the run so I can make the final push through the streets of Los Osos to the front steps of Kuma. Los Osos is an easygoing little town known for its year-round charm and breathtaking sunsets. Quaint houses line the streets with little nuggets of nature tucked around the corners. There's a sweet tranquility that lives down every street making it a great town to run in. The locals contribute to this runner's paradise with their "slow your roll" signs, reminding drivers to slow down and pay attention to pedestrians. I have never run in a town with such admiration for the safety of those commuting along the street, valuing the active life outdoors. As I rounded the corner to Kuma I was greeted by my smiling wife who snapped a few last pictures to catalog my journey across the bay. It's a truly marvelous thing to have a supportive wife that will chase me all over the place and do whatever it takes to help me pursue my dreams; for that I am always grateful.
Happy hour at Kuma was a noteworthy way to end a run—salty carbs, veggies, mouth-watering flavor, and sweet fermented rice. The only thing sweeter is the price. For $13.99 you can get a fat bowl of ramen and a hot or cold large sake, enough to feed two. If this nutritious and filling meal isn't enough for you after a 6.5 mile run, the ambiance is absolutely sensational. The outside seating area rests upon a beautiful wooden deck surrounded by trees and shrubs, making you feel like you are on some far-off island. Besides ramen, Kuma has a lot to offer from teriyaki bowls to their extensive list of sushi and sashimi, ample sake menu, japanese style sodas, and hard kombucha.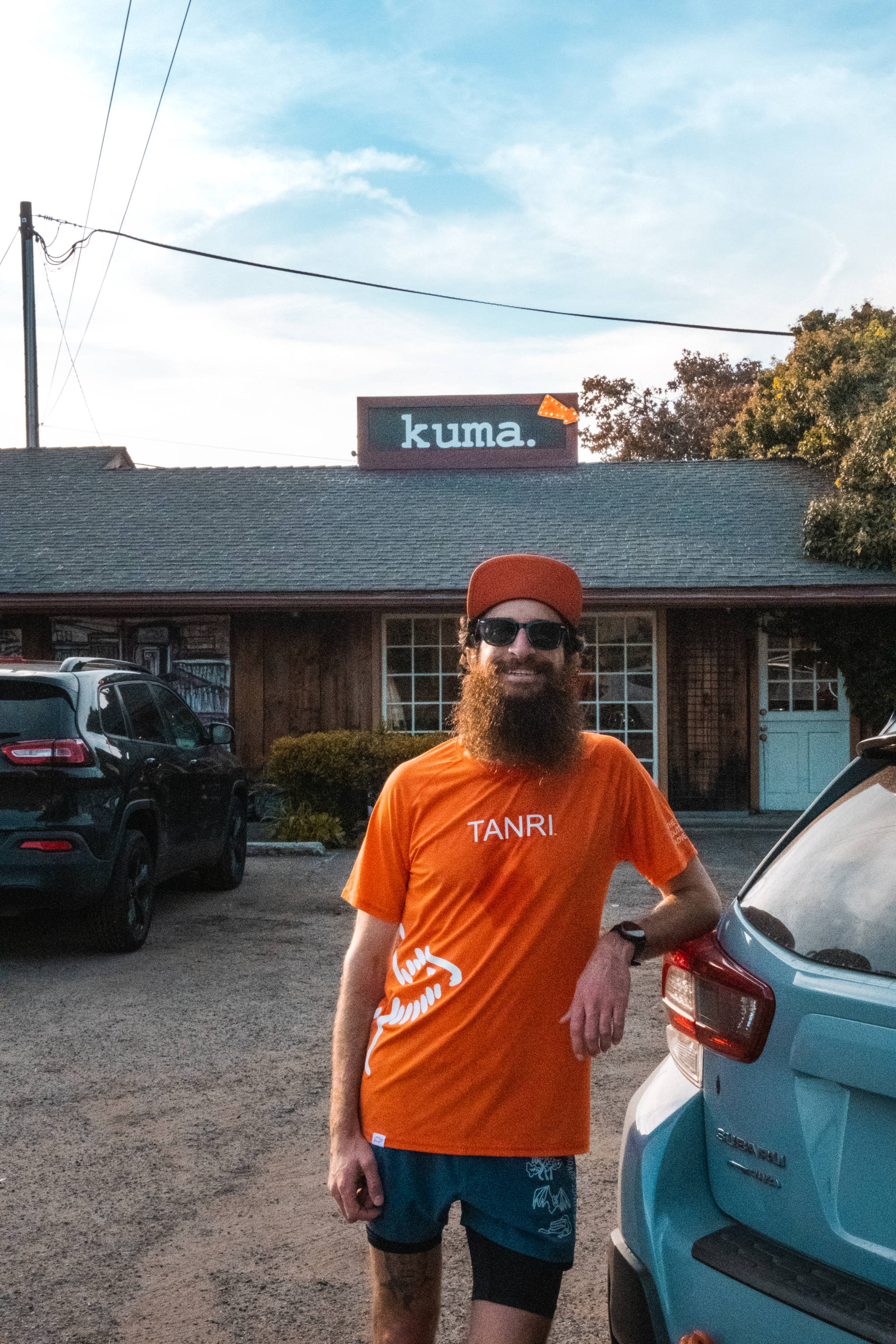 ---
This run was inspirational and rewarding from start to finish. By cutting out the noise of everyday life, limiting my distractions, focusing my mind on movement and the pure essence of the run, I was able to truly enjoy every aspect of the route from Morro Rock to Kuma. I hope this account of "the run of my dreams" leaves you with a sense of adventure to get out and explore, be creative and mindful in your running, and—most importantly—have fun along the way. …Oh yeah, and eat a giant bowl of ramen!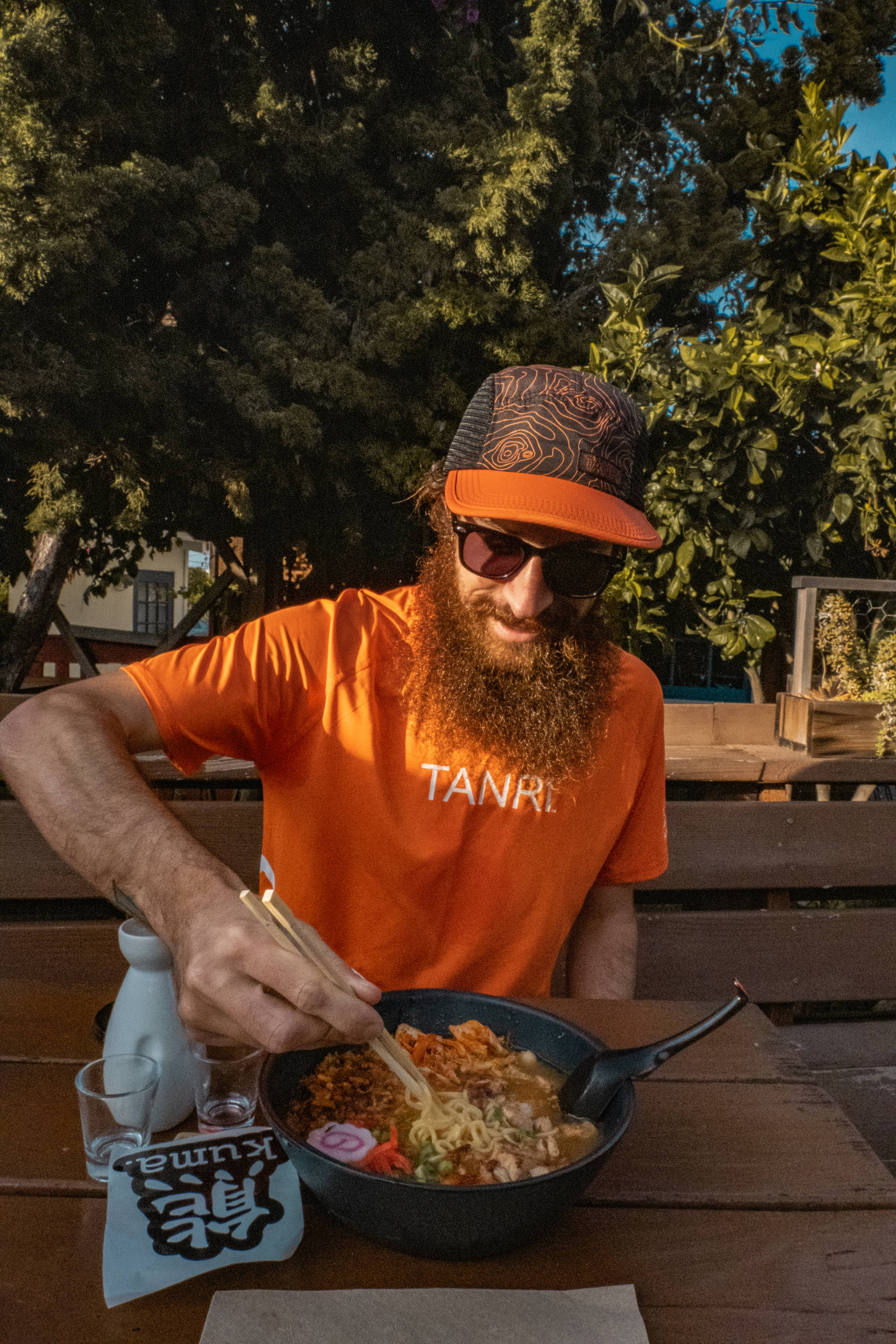 ---
2 comments
---
---