Harmony Headlands and Hidden Kitchen
"Our bodies need nourishment. And not just
physical nourishment, but also nourishment for our soul."
Lately, I have been enjoying pairing my runs with some grub. I'm not sure what initially sparked the idea, but a likely possibility is my sudden urge to refuel right after a run in combination with my love of really good food. Regardless, it's been a fun new way to plan my training runs, and it doesn't hurt that it involves two of my favorite things: adventurous, well-thought-out runs and delicious, mouth-watering food. What could be better than that right? On this specific occasion, I decided to plan an early morning trail run at Harmony Headlands State Park along Highway 1 and then head south to Cayucos for a tasty breakfast at Hidden Kitchen. Known for its syrupy and savory blue corn waffles, Hidden Kitchen was the obvious choice in my mind for breakfast after this break-of-day trail run in the headlands. I've passed by Harmony Headlands for many years and have neglected to stop. It seemed fitting to create a run+food pairing for this first-time visit; a relaxing morning to unwind and bring holistic nourishment to the body.

Now, when I visit a new place I take an interest in studying the area and learning about the past stories and events of the people who walked the land before me. Accordingly, let me share with you a brief dive into the history of Harmony Headlands. Before it ever became Harmony Headlands the land had been occupied by many different people throughout its history. The Native American ancestors of today's Chumash and Salinan people were among the first to trek the land. They navigated up and down the small rivers, in sync with the changing seasons, in order to gather supplies for food, tools, and shelter. In the early to mid-1800s, the Portolá Expedition brought European settlers to California. The headlands became land for missions until Mexico gained independence from Spain. The land, known as Rancho San Geronimo, was then granted to individual ranchers. The new owners of the land saw the coastal prairies and hillsides as the perfect place for cattle to graze and used the headlands for various ranching operations. The land continued to be used for ranching until the late 1800s. It was then bought and sold several times by individual families, until the late 1900s when the Storni family, who used the area as a dairy operation, sold the land to developers in 1975. The developers planned to subdivide the 750 acres into 12 elegant ridgetop homes overlooking the secluded ocean, but after sitting on the land for years not a single house was built. Finally, in 2003, the Coastal Conservancy, Wildlife Conservation Board, State Parks, and Coastal Commission joined forces to buy the land from the developers to preserve and protect it. Harmony Headlands is now a place for our enjoyment and exploration, a place to run free and roam the wild wonders of the California Coast.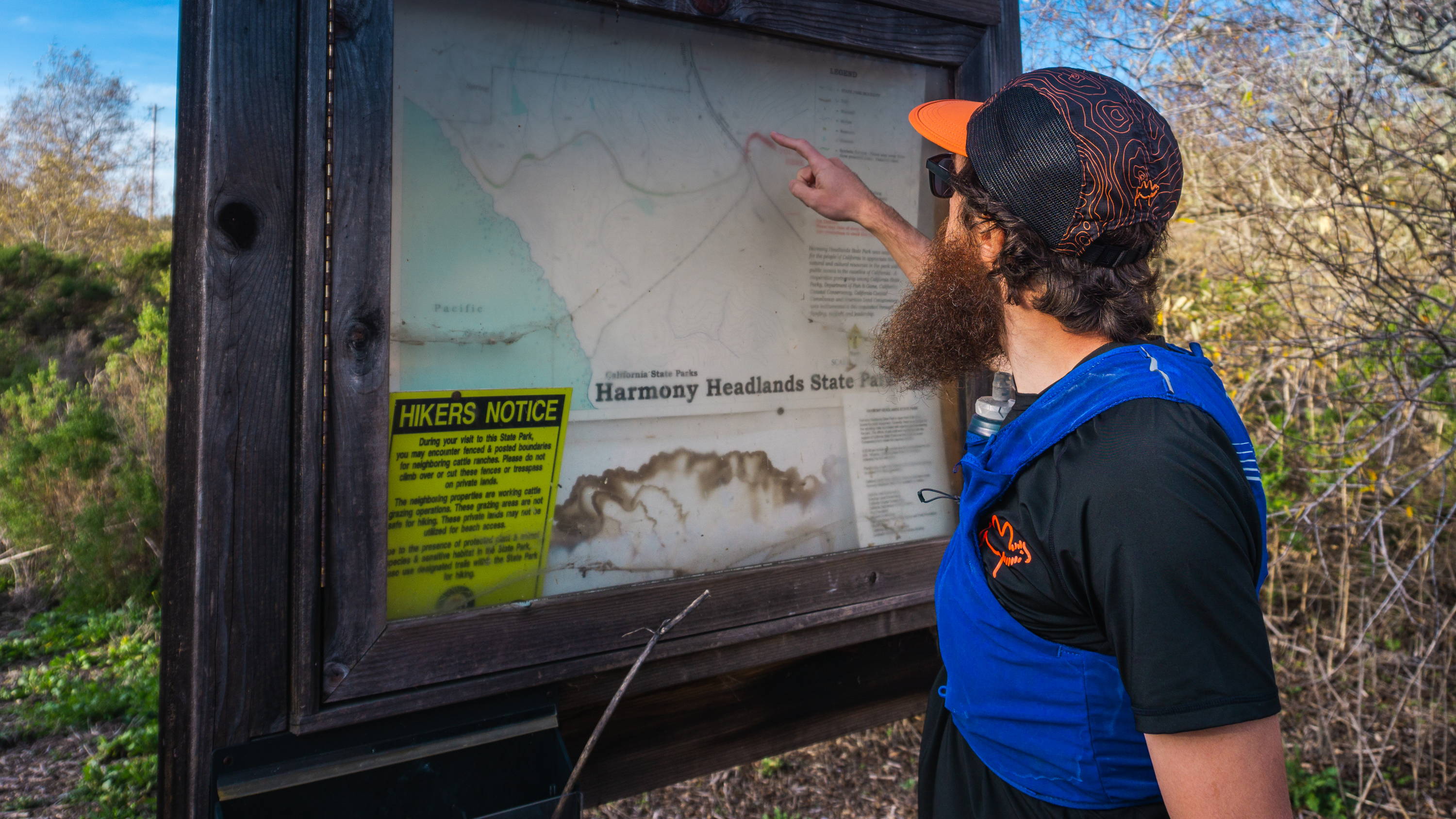 I set out on the trail, inspired to soak in the rich history of the ground beneath me. The trail is 2.25 miles out and back, well-manicured as to be easy on the feet, and opens up to a stunning view of the coastline–a captivating 4.5 miles in total. If you get there early enough you will experience this amazing piece of land in solitude, though I think the proper word to describe this place is 'serene' since it's unquestionably calming in the early AM hours. The trail starts right off the highway from a small pull-out lot and a sign that reads "coastal access." The pull-out can be easily missed if not actively on the lookout. As I ventured down this section of the highway over the years, I often wondered what was hiding beyond the dirt lot as much of the trail is somewhat camouflaged from view when on the busyness of highway 1. Once on the trail, you are greeted with shrubs, grasses, and trees radiating shades of green and gold with hints of red tones throughout. You can hear the waves break far in the distance and birds chirping a morning melody nearby. Like running through an "en plein air" painting, this morning's tide trot along the Headlands Trail set motion to a great curiosity of what lay ahead.
A mile and a half in, the trail starts to curve downward and you are greeted with your first view of the big blue ocean with two hills V-ing inwards to border the waves perfectly in the frame. I like to refer to myself as a view-seeker and this is one of those moments that I hunt for, just to savor the beauty for a few breaths. This is also a great spot to take a short break and enjoy the sea breeze amongst the abundant foliage of Harmony Headlands. After getting recharged from a short break, the rest of the trail flattens out as you follow the ridge along the water until you reach the edge of the headlands. Once at the cliffside, you can truly feel the power of the deep cerulean sea. Standing on the lookout point, the waves crash upon the sides of the rock as if they are trying to sweep you away–an authentically thrilling moment beyond a doubt. This experience makes you feel tiny in comparison to the high swells, a humbling awareness. I consciously stood atop the lookout, soaking in the early morning sun, before heading back to the car to drive to breakfast. Did someone say breakfast? This was motivation to hurry back to the car so I could indulge in some delightfully delicious waffles.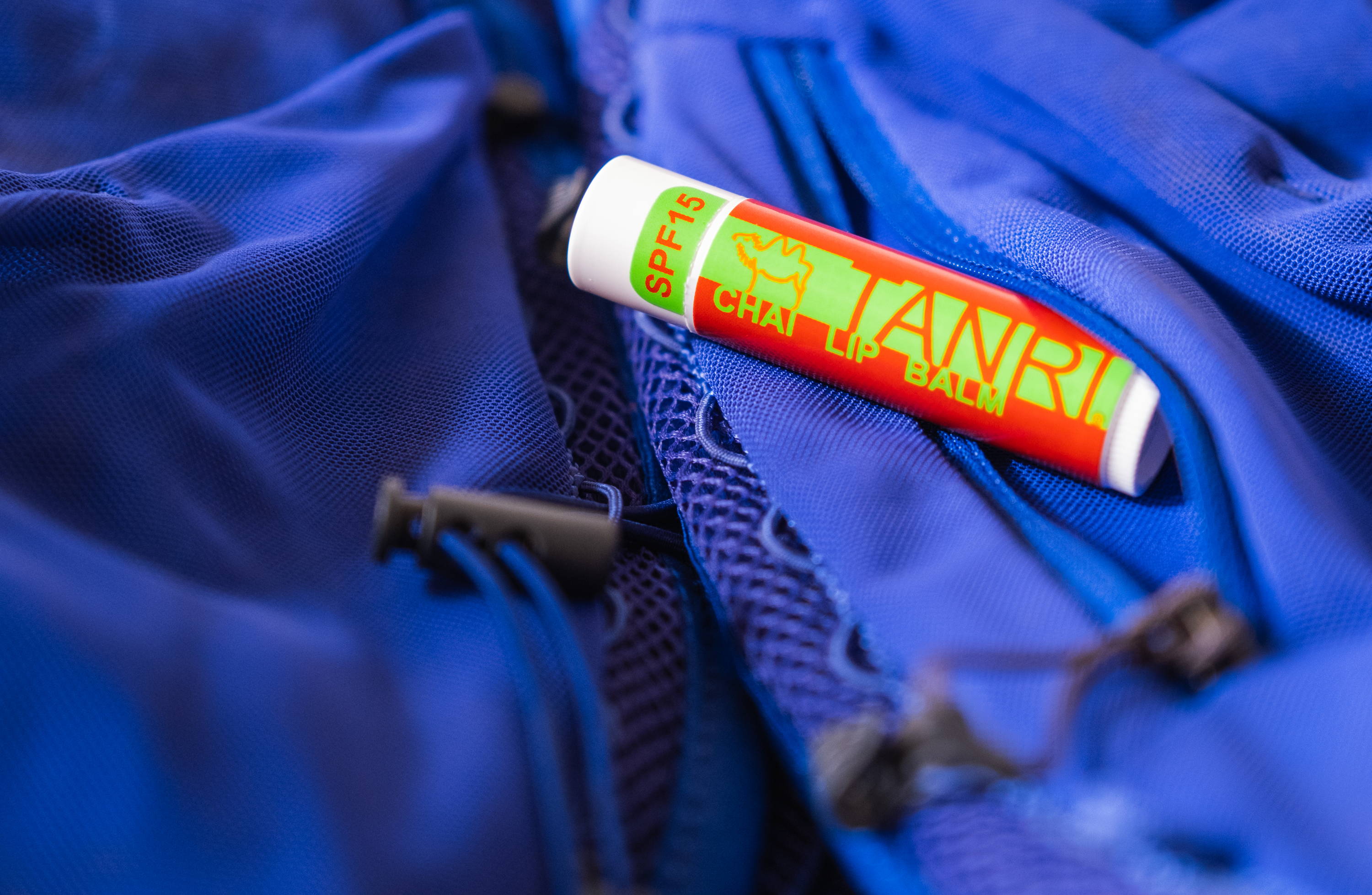 Back at the car, I wiped the sweat from my face and decided to freshen up a bit–this crusty mutt didn't want to show up too crusty for the folks at Hidden Kitchen. I changed into a fresh crewneck sweater, my favorite knitted beanie, and a comfy pair of Birkenstocks, and applied Tanri's Chai-flavored lip balm (this balm tastes like you just stepped foot into a coffee shop!). Ready to get my grub on, I left the parking lot on a hot-waffle pursuit. Driving south towards Cayucos, I was at my destination in mere minutes, just before the morning rush. This place is always popping with energy, from its friendly employees to its cool, inviting environment with abstract art and retro-boho decor, embodying homelike comfort and simplicity. The only thing not simple is the food–blue corn waffles, hand-pressed blue corn tacos, and gigantic super smoothies! It's hard to resist trying everything on the menu. Luckily, you can't go wrong with whatever you end up ordering since each item is phenomenal. The smoothies are so big and extravagant that they are a meal in itself–art in the form of food. I ordered the Monte Cristo waffle, as I always do–yes, I am a frequent eater at this establishment–and it never disappoints. Each time I'm here I think 'maybe this time I'll try something new,.' but I always find myself craving a Monte Cristo, and alas I feed into my addiction yet again. It's the perfect waffle with a thick piece of ham, melted cheese, and buttery maple syrup, topped with berry jam and powdered sugar. This combo with the blue corn foundation is the perfect marriage of sweet 'n' savory. Is your mouth watering yet? If you have a craving for a yummy breakfast spot with organic, sustainably-sourced ingredients then this is the place for you. They also have a second location in Cambria that is just as swell.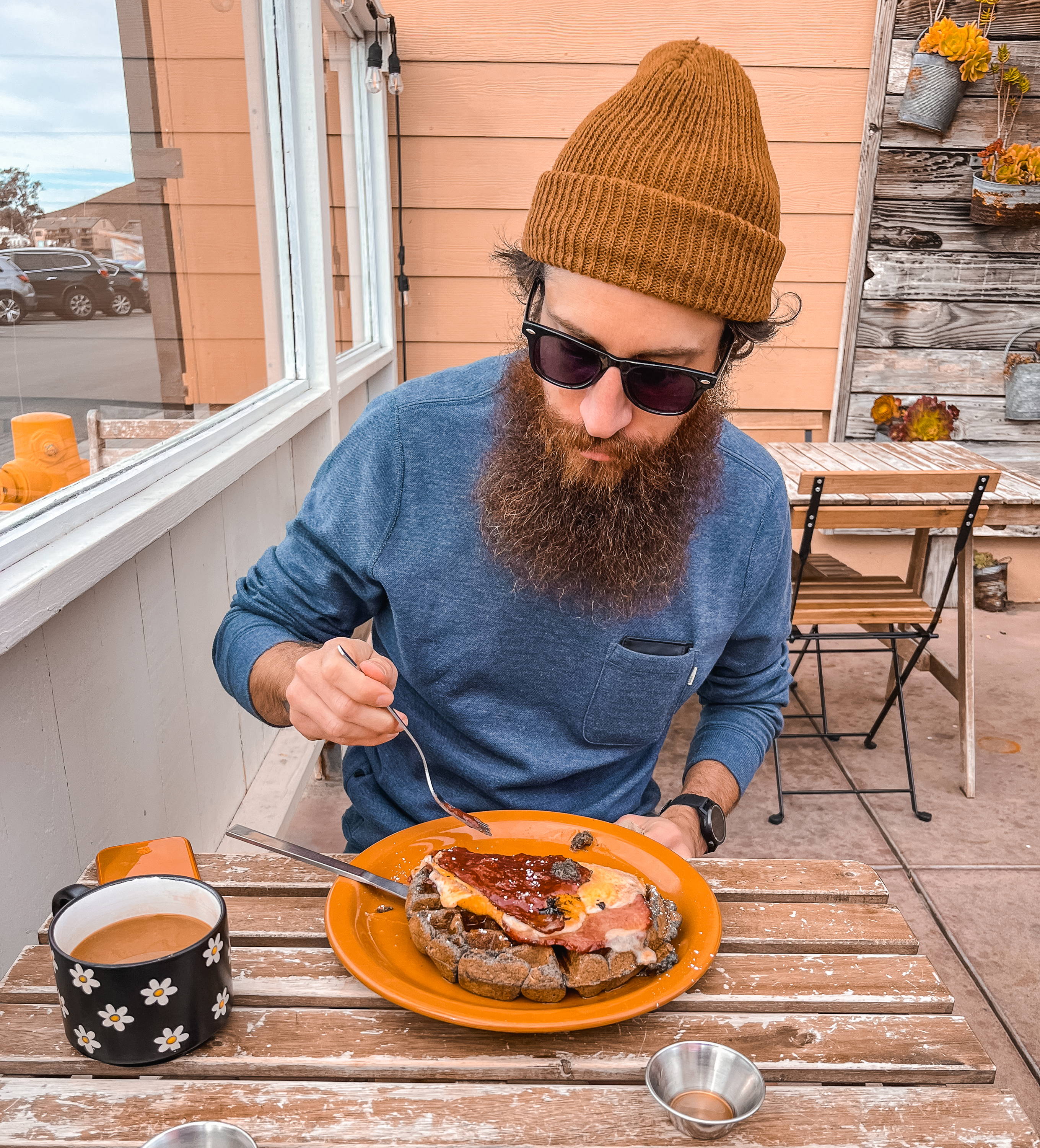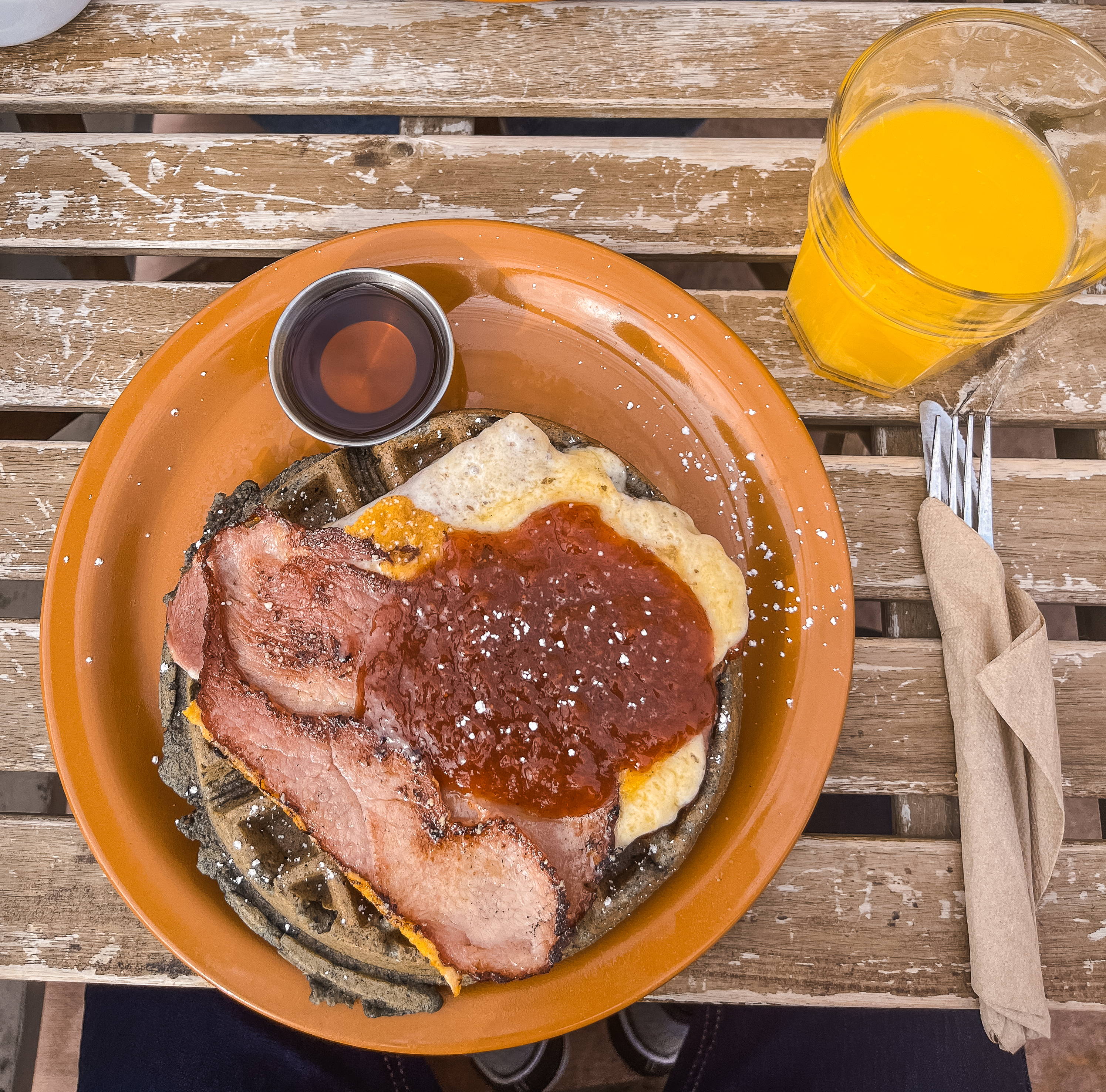 So, what did I learn from this run+food experience? Well, it's not exactly what I learned, but more so remembering something I already knew–our bodies need nourishment. And not just physical nourishment, but also nourishment for our souls. Eating high-quality food after a run is so, so good for the body to replace nutrients lost during exercise, and spending time in nature is so, so good for the soul–setting your body and mind up for a positive day. Lastly, waffles from Hidden Kitchen are completely irresistible after a trail run at Harmony Headlands so I definitely recommend this duo. There's no better way to start your day than with a little nature therapy, easy miles, waves, sun, and a wholesome delectable meal.
---
1 comment
---
---